Call Our Dedicated Cruise Desk at 877-287-2835
Portland/Vancouver, WA to Clarkston
Experience a sense of excitement and wonder as your journey begins in Portland near the Pacific Ocean, the objective of Lewis and Clark's expeditionary party, the Corps of Discovery. You will visit many historic, scenic and enjoyable sites along your Columbia and Snake River voyage to Clarkston. If you're looking for something tailored more to a specific interest, you might enjoy the Premium Shore Excursion to Multnomah Falls or a trip to the Western Antique Aeroplane & Automobile Museum.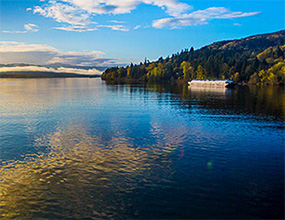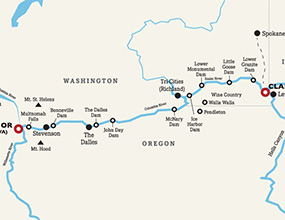 Day

Destination
1

Hotel Stay - Vancouver, WA
2

Vancouver, WA
3

Astoria, OR
4

Stevenson, WA
5

The Dalles, OR
6

River Cruising
7

Richland, WA (Tri-Cities)
8

Clarkston, WA
9

Clarkston, WA
2018 Travel Dates
May 13

May 27

Jun 10

Jun 24

Jul 8*
Jul 22*

Aug 5

Aug 19

Sep 2

Sep 16
Oct 14

Oct 28


*Theme: A Pacific Northwest Adventure
2019 Travel Dates
Mar 31

Apr 14

Apr 28

May 12

May 26
Jun 9

Jun 23

Jul 7

Jul 21

Aug 4
Aug 18

Sep 1

Sep 15

Sep 29

Oct 13
Oct 27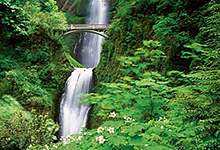 A Pacific Northwest Adventure
Enjoy enticing shore excursions which highlight the beautiful terrain and one-of-a-kind experiences that nature has to offer in this captivating corner of America. Grab a partner for a tandem ride on a kayak or take a relaxing solo-ride down the Columbia and Yakima Rivers as you board your own personal vessel and glide onto the surface of the water. Sit back and feel the excitement rise as you enjoy an exhilarating jet boat ride through the narrowest sections of Hells Canyon, North America's deepest gorge. If you are feeling brave and willing to extend beyond your comfort zone, experience the Pacific Northwest from one of the best vantage points - high above the ground sip-lining through the towering trees and over the region's waterways!